Tall Fescue – The Chafer resistant grass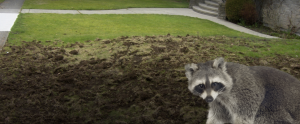 Tall fescue grass may be the game changer that people dealing with chafer beetle infestations in Vancouver and the Lower Mainland have been waiting for.
The European Chafer Beetle is an invasive insect that has completely changed our landscape since it was accidentally introduced here in 2001. For the past several years  animals and crows have been increasingly digging up lawns in search of chafer grubs. Until recently the use of insecticides such as Merit, were an easy and cost effective way to treat the infestation. But now most municipalities have banned the use of chemical pesticides and this has caused many to wonder what can be done to protect their lawns. A Nematode treatment (millions of microscopic round worms) is now the only option available for people living in Vancouver. In a "best case scenario" the nematode treatment is 65% effective in controlling grubs in an infested lawn. Unfortuneately, nematodes require a damp environment to survive after they have been applied. This means daily watering of the lawn during what is usually the driest part of the summer when lawn sprinkling is limited to 1-3 days per week and in some cases prohibited completely. If lawns do not receive enough water for 2-3 weeks after the application, the chances of the treatment working properly are greatly reduced. The unpredictablility of the nematode effectiveness together with the chemical bann is causing many homeowners to lose hope that they will be able to save their lawns.
Tall fescue is a variety of grass which research has shown to be resistant to damage caused by the chafer beetle. This is good news for people that want an attractive, real lawn but also want to dramatically decrease the chance that it will be destroyed by animals.
What makes a Tall Fescue lawn resistant to Chafer Beetle?
The 2 main qualities are the density of the grass and the depth of the roots.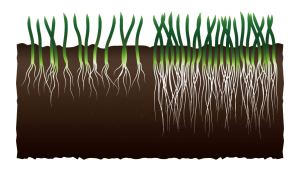 The density and thickness of a tall fescue lawn makes it more difficult for the chafer beetle to penetrate down to lay its eggs in the lawn. The diagram to the right shows the difference between a typical lawn and a tall fescue lawn.
The deeper, thicker root system of tall fescue also seems to hold up much better to any grubs that are present and feeding on the roots. This means that animals can't pull the turf back as easily. Deeper roots also have the added benefit of making tall fescue lawns more drought tolerant.
How do I get a tall fescue lawn?
If you are interested in replacing your old or damaged lawn with a new tall fescue lawn we offer 2 options:
Install New Turf.  Local turf farms have begun growing tall fescue for purchase. The advantage of installing pre-grown turf is that you can have a new lush lawn in a matter of days. This option is the most expensive but you get instant gratification. We have found that one draw back to installing turf is that animals will often flip over newly installed turf before it has a chance to root properly while searching for worms or other insects.
Hydro-seed with Tall Fescue.  Hydro-seeding is done by mixing a large tank (500 gallon) of water with grass seed, fertilizer and a paper mulch.  The mixture is then sprayed onto the prepared soil. The paper mulch helps to insulate the seed and retains moisture so that the seed will germinate quickly and evenly. It also prevents erosion (having the seed wash away) and makes it difficult for birds to disturb the seed. A Hydro-seeded lawn will grow in and be ready for use less time than it takes for a traditionally seeded lawn to grow and typically costs 40%-50% less than the price of installing new turf.
Our Recommendation:  Try Tall Fescue by Hydro-Seeding
After installing and reseeding hundreds of lawns in recent years, we are excited to be able to now offer Hydro-seeding. While the preparation process of removing the old lawn and building it back up with new soil is similar for both new turf and hydro-seeding, we believe that hydro-seeding with tall fescue is the best and most cost effective way to have a beautiful and natural lawn, while also minimizing the risk of future damage.
Check out our other SERVICES here